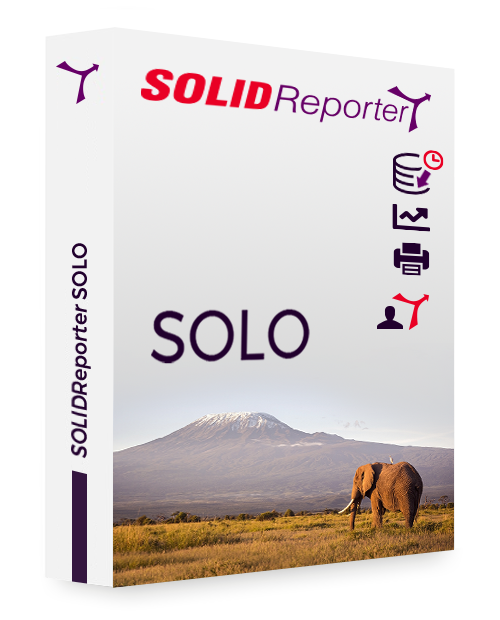 SOLIDReporter SOLO
Free yourself from one of the most repetitive and tedious tasks.
Record and analyze your hours and comments in real time:
automatically - without effort and without constraint
by project, by task and by time period
Receive alerts - monitor amount of budgeted time used
SOLIDReporter SOLO is dedicated to a single identified user, using 1 or more computers with SOLIDWORKS®.
A SOLIDReporter SOLO license is dedicated to a single SOLIDWORKS® version (2015 or later).
Eliminate the headache of trying to remember what project you worked on and for how long you worked on it

Streamline the essential administrative task of accurately recording your time
Improve the management of your time by better understanding your time
Avoid omissions and tedious reconstruction of your working days
Monitor amount of budgeted time used

See an analysis of your time by project, task or time period
Detect overages and bottlenecks more quickly and easily
Record and communicate your comments in real time to ensure easy follow-up
Produce summary reports in a matter of seconds
Automatically records user's times
Ability to password protect

Automatically records time allocations


Simultaneous assignment of projects and sub-projects

Customizable automatic assignment rules
Permanent display of the active project

Classification of time by type of task

Automatically and dynamically recognized tasks (part design, assembly design and drawings)
Recognizes inactivity in SOLIDWORKS® and prompts you to categorize time spent elsewhere

Create custom tasks (meeting, maintenance and project follow-up with the workshop, administration, coffee break...)

View and edit the last recorded hours with the ability to reassign tasks and projects
Set and receive alerts - monitor amount of budgeted time used

Add comments/notes to the currently active project in order to follow up later (reminders, ideas, questions …)
Standby mode of automatic recording
Individual reports by project, task or time period
Simplified summary of the current working day
SOLIDReporter SOLO is a SOLIDWORKS® add-in for a single version of SOLIDWORKS®, to be set at product registration (you therefore need one copy of SOLIDReporter SOLO per SOLIDWORKS® version used). This licensing policy allows us to offer free product maintenance as long as you keep the same SOLIDWORKS® version
Your SOLIDReporter SOLO copy is dedicated to a single user identified by their email address
Your SOLIDReporter SOLO copy can be installed on as many computers as you wish if, and only if, it is used by the same identified user (See below however: report generation is limited to 3 different computers per calendar month)
An Internet connection is required when you install/register your copy. Its daily use does not require the Internet except at least once a month for the generation of summary reports
Over a period of one (1) calendar month, the creation of summary reports can only be performed on a maximum of three (3) different computers