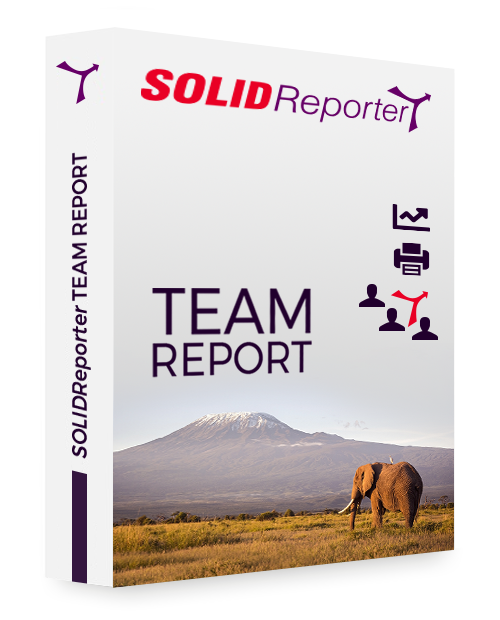 SOLIDReporter TEAM REPORT 2022
Easily create consolidated reports by project, by task and by time period, for a group of coworkers using SOLIDReporter SOLO.
SOLIDReporter TEAM REPORT 2022 is used to compile and process data recorded with SOLIDReporter SOLO, on all SOLIDWORKS® 2022 or earlier versions.
SOLIDReporter TEAM REPORT is dedicated to a single identified user, using 1 or more computers not necessarily equipped with SOLIDWORKS®.
Manage and analyze data recorded by 1 or more copies of SOLIDReporter SOLO
Useful for the project manager, team leader, department head…
Can be installed on a computer that does not have SOLIDWORKS
SOLIDReporter TEAM REPORT only needs to access to the SOLIDReporter databases of the SOLO users
Makes the monitoring of time spent on projects simple and efficient
Allows you to create compiled reports for multiple users and Teams
Create as many Teams as you would like with different users
Produce customized reports in a matter of minutes
Create reports for…

the current day
the day before
a selected project (by project or sub-project)
all projects
daily times over a selected time period

Reports are created as a pdf, csv or json file
Choose which users and SOLIDWORKS versions you want for each report
To save time when creating reports, define and customize your Teams first
See total time spent on parts, assemblies, drawings or other custom actions the user may have created in SOLO (meetings, maintenance, project follow-up with the shop, administration, break time...)
Reports sorted alphabetically by projects and actions and by percentage of time spent on projects and actions
Your company logo appears on all reports after uploading it in the settings
You must have an internet connection to use TEAM REPORT

TEAM REPORT 2022 allows you to compile and process time data recorded by SOLO on all SOLIDWORKS 2022 or earlier versions. If one of the users switches to SOLIDWORKS 2023 and acquires a corresponding SOLO version, then a TEAM REPORT 2023 copy (or 2024, 2025...) must be purchased.
Your SOLIDReporter TEAM REPORT copy is dedicated to a single user identified by their email address
Reminder! The time data, project ID's, tasks... are only stored on your disks and NEVER pass through our servers.